Converged Voice and Data
Page under construction...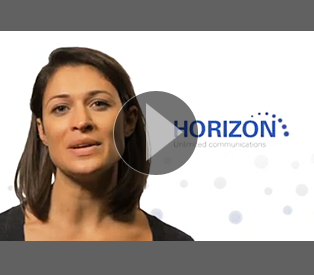 Horizon is a business grade, hosted internet telephone system – a complete unified communications service for all sizes of organisation, from 1 to 1,000 users. Horizon provides an extensive range of fixed and mobile telephony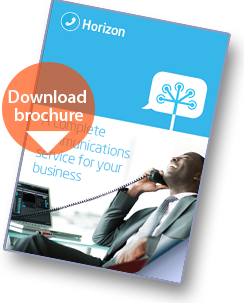 capabilities, managed via an easy-to-use web portal. What's more, the monthly rental structure means it won't break the bank – no need to finance a large, up-front capital cost for a traditional phone system.
What is Hosted IP Telephony (VoIP)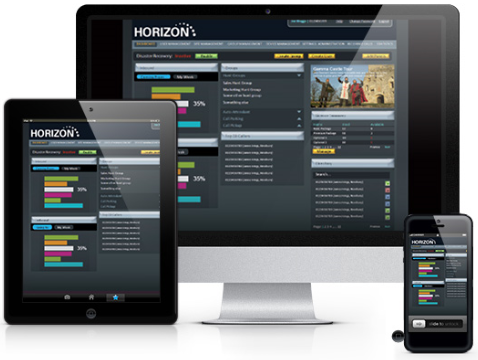 Hosted internet telephony has been developed commercially over the last 15 years. Instead of carrying calls over the traditional telephone network, voice traffic is transmitted across the internet, using VoIP – Voice over Internet Protocol. Call quality is equal to, or better than, standard analogue phone conversations. Hosted telephony is a perfect example of "cloud computing" – all of the hardware, software and functionality is located on servers in various data centres around the country and is accessed via the internet. This allows providers to offer greater levels of resilience. If there is a problem in one exchange, everything is mirrored in other centres and traffic is routed and handled there.
Features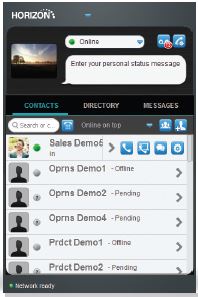 The service has lots of clever features and an emphasis on control and administration through the web that takes the burden away from the IT team. Administrators can quickly configure the system according to their organisation's changing requirements, while employees can manage calls easily and effectively.
With only a minimal capital outlay required, a reliable and proven service, and a jargon free approach to telephony and communications, Horizon is suitable for any sized business looking to improve their productivity and image. It is a sophisticated enterprise level telephone system, but with a cost structure that even a self-employed individual can afford. The only hardware needed is a telephone handset and a router, connected to the internet. Hosted telephony enables employees to work from the office, their home, a hotel or mobile phone – still connected to the office system.
What are the Operating Advantages?

No on-site equipment required
The only equipment you need are phone handsets and a router connected to the internet. All system support and maintenance is provided by our engineers. The service is constantly monitored and our array of linked data-centres offers immediate fail-over if there is a problem, so there will be minimum disruption to end users.

Control Your Phone System
Horizon puts you in complete control of your phone system. Manage all of the features and monitor the system performance via an easy-to-use web portal. As the administrator, you can quickly change and configure Horizon according to your organisation's ever changing requirements. Employees can easily manage their own calls, their contacts and their messages.

Improve Business Efficiency
Horizon enables you to converge your fixed and mobile capabilities so that you never miss a call. "One number anywhere" means callers dial one number to reach your desk phone and your mobile, simultaneously. Both phones share the same voicemail box.
Horizon is ideal for multi-site operations. No expensive PBX phone systems located at each site, because the service is provided centrally, over the internet. Calls are free between sites, even if located overseas. Everyone can share the same dial-plans and directories.
Horizon enables hot-desking – log on to any phone at a work-station. That phone is now your own personal phone, with all of your settings and contacts. Save office space for employees who are only in the office occasionally.
What are the Business Advantages?

Control Your Costs
Pay only for what you need as the business expands or contracts. Horizon is charged on a simple per seat basis – i.e. a monthly line rental for each handset that is required. And with our current promotion, FREE Cisco or Polycom IP handsets + FREE calls to UK fixed line numbers + FREE call fraud prevention, it couldn't be a better time to transfer your telecom requirements to Horizon.
With hosted cloud telephony there are no large, up-front hardware investment costs. There are no expensive monthly maintenance or support costs. The system is maintained centrally and the costs are included in the line rental. The monthly rentals are charged 100% as an operating cost and so are immediately allowable in full against any Corporation Tax calculation.

Improve Business Flexibility
Keep your main business number, even if you move to a completely different region. You can also extend your business reach by adding a local number, irrespective of where your main office is located. For example - if your office is in Edinburgh, we can provide a Glasgow area number which can be advertised in that region.

Disaster Planning and Business Continuity
Because Horizon is a cloud-based telephone solution, it means that any unforeseen event such as power cuts, snow, floods or worse, won't interrupt your business communications. The company call handling routines can be altered simply by logging onto the web portal. Employees will be able to continue making and receiving calls from another location.
Page under construction...