 SIP TRUNKS


A reliable, cost saving
alternative to ISDN
There are now over 1.2 million SIP channels active in the UK, providing a reliable, flexible and cost-effective alternative to ISDN. Small and large organisations have used ISDN (integrated services digital network) since the late 1980's for their main business telephone trunk lines. However, ISDN is a relatively expensive technology and very slow and costly to install. In today's commercial world companies need to respond rapidly to changing situations. SIP (session initiation protocol) trunk connections offer huge benefits to users – high call quality, cost reduction, rapid installation, flexibility and added functionality.
HOW IT WORKS

Our SIP trunks link your telephone system to our network, running over an internet connection (broadband or ethernet), with –
An availability guarantee
Voice channel guarantee
Voice QoS (quality of service)
24/7 UK based support
Conformance tested with all major phone system manufacturers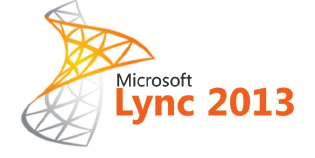 THE BENEFITS OF SIP TRUNKING
Save Money
Line rental using IP connectivity costs less than ISDN, with lower call costs and FREE calls between offices. There is no expensive call-forwarding cost, should you relocate or in the event of any disaster or business interruption.

Flexibility with Phone Numbers
SIP trunking enables you to move office and keep the same geographic number without any ongoing call-forwarding costs

Line Rationalisation
For businesses with multiple sites, SIP trunking enables line rationalisation. It reduces the number of PBX phone systems you need to maintain, with calls routing to and from one or two main PBX's, which will process call handling.

Resilience
SIP trunking provides a phone service that will give you business-grade resilience for your telephony. Whether you need to keep your business running in a disaster situation, or you need to load balance your call traffic between sites, SIP trunking delivers.

Business Continuity
If your office has to be temporarily relocated in an emergency, this can be achieved quickly and cost-effectively with SIP trunking, enabling you to minimise any business interruption.

Compatible with Microsoft Lync 2013
Our SIP trunks are integration tested and approved to inter-operate with virtually all major phone manufacturers and with Microsoft Lync 2010 and 2013, allowing you to connect directly with the MS Lync platform to make external calls.
WHY CHANGE TO SIP TRUNKING ?
Your business could be relocating. You may want to keep your old legacy PBX (phone system) or connect to another system, but you would like to improve operating capability by using SIP trunks. You may be expanding, creating new business branches, or merging or taking over other businesses. Or, you may just be looking to reduce your telephone operating costs. SIP trunking will support a unified communication strategy in all these circumstances.
MULTI-SITE RATIONALISATION
Does your business have multiple sites? Do you have an ISDN connection into an individual PBX at each site ? By using SIP trunks, instead of ISDN, you can reduce the number of connections you currently require, together with any capital or leasing costs, and maintenance costs on multiple PBX systems. At remote sites, you are left with the cost of an IP connection and the handsets needed. You can route all your call traffic through one, centralised PBX.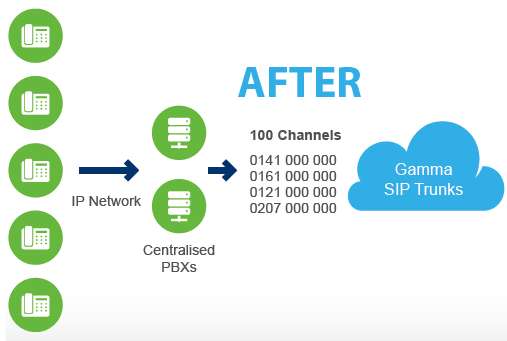 WHO SHOULD BE LOOKING AT SIP TRUNKING ?
Businesses looking to move premises, wanting to keep their main business numbers, without paying expensive call-forwarding costs.
Multi-site organisations, looking to rationalise or reduce the number of phone systems they use, into a resilient, centralised solution.
Customer service-driven businesses, where a "local presence" is important, with the ability to deliver calls into multiple UK numbers, into a single service centre.
Companies needing disaster recovery measures, where SIP can provide a resilient phone service to cope with any emergency. With ISDN, all numbers linked in to the PBX can only be forwarded to one number. With SIP trunks, you can divert down to a DDI level – e.g. admin calls can be diverted to another branch office; sales calls to a personal number; or calls to the CEO can go to a mobile.
Businesses with seasonal voice capacity requirements – for example, where more lines for a sales campaign can be quickly and easily deployed, but with no long-term contractual commitments.
SIP trunking allows businesses with legacy systems to benefit from the features and cost savings of IP telephony. You get a service that is more robust and flexible than ISDN, with a whole host of added benefits, helping you to resolve real business issues. Call Polaris today and we will be pleased to listen to your needs and offer our advice.