Business Grade HD Video-Conferencing for Smaller Businesses - from

Have you been put off by the high price of video conferencing solutions ?
Fed up with the frustrations of PC webcam chat systems like Skype ?
At a fraction of the cost paid by large corporate organisations,

has opened up the high quality, video-conferencing market to smaller businesses.
Now you can benefit from a simple to operate, high definition, video-conferencing solution at less than a tenth of the price paid by big business.

It's time to take a fresh look at video-conferencing.
Polaris Telecoms has partnered with Cambridge-based company

, to offer a completely new HD video conferencing experience. Simple to operate, conference in with colleagues or customers on another BlinkPipe connection, or from a desktop Mac or PC browser, or on the move with a tablet or smartphone – all at a low, low fixed price.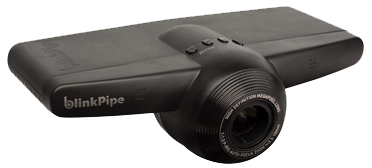 With

in your meeting room:-
walk in

sit down

dial the conference phone

the auto-framing camera fires up

the TV switches on automatically




….. and off you go …….
No remote controls. No complicated manuals. No more test calls. No more huddling around a laptop webcam. No more eye-watering bills for telepresence projects. No expensive ISDN phone lines. Works in conjunction with a standard conference phone.
We chose BlinkPipe because we loved the concept: a video-conference call
that takes no more energy or effort than making a regular telephone call. Equally, the ability to switch easily and quickly to Presentation Mode means that the conference host can present a Power Point show, or a spreadsheet, or other documents to the conference participants. The benefit of this is hugely valuable to our business

Simon Galbraith, CEO, Redgate Software
| | | |
| --- | --- | --- |
| See in action in your office and the benefits HD video-conferencing can offer you. | | |